Search found 14 matches
by Zietius

21 Feb 2016, 17:54
Forum: General Discussion
Topic: SIGN ME UP
Replies: 1
Views: 1618
Post this in the comments sections of the tournament forums post or you won't be added.
by Zietius

19 Feb 2016, 18:59
Forum: Bugs
Topic: A few bugs that need fixing:
Replies: 1
Views: 1510
Lumberjacking damage is 0.5-1 heart down from 0-100 skill level. Archery's pierce and knockback effects don't work Slowfield can be used to farm string PvP is way unbalanced Gold swords are crazy OP Damage is messed up because of the resistance Lumberjacking hasn't been balanced with pvp yet, it's ...
by Zietius

12 Feb 2016, 22:11
Forum: Announcements
Topic: Potions
Replies: 0
Views: 4566
Defman is on holiday for about a week but unfortunately he didn't fix PvP before he left. So as a temporary fix, the following potions have been banned (You can still make them but they will automatically be removed from your inventory now). I'm aware that this is probably going to piss many of you ...
by Zietius

09 Feb 2016, 05:10
Forum: Suggestions and Feedback
Topic: Questionable Admin Powers
Replies: 4
Views: 2841
Sorry, going to comment anyway (Figured it'd be appropriate seeing as how I was the one to approve this post to begin with). #1 I'm not an admin. I'm temporarily OP so that I can help Defman with various things such as testing for bugs, building cities for the maps, ect. just like I have been doing ...
by Zietius

07 Feb 2016, 19:17
Forum: Announcements
Replies: 0
Views: 4398
Guess we'll have to increase it soon than expected...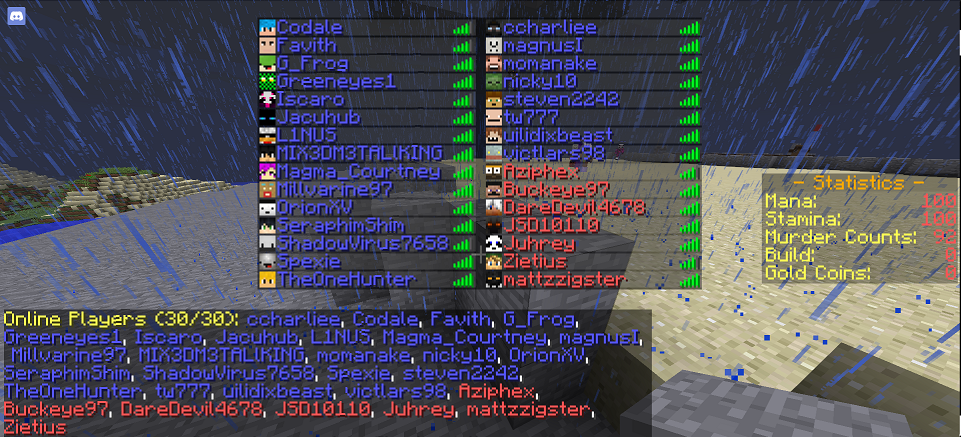 by Zietius

07 Feb 2016, 19:15
Forum: General Discussion
Topic: On the free 200 skill points
Replies: 1
Views: 1524
When we exit the beta you won't receive any free skill points (aside from the 50 you receive from /resetallskills). There's a reason for it but Defman can explain it better than I can.
by Zietius

07 Feb 2016, 02:21
Forum: General Discussion
Topic: Lost shard Veteran
Replies: 4
Views: 2811
Nice to see the server being not so dead as it was two weeks ago...